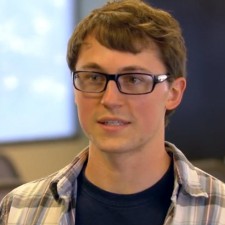 From brain injury to increased job performance, confidence and processing speed
COLORADO SPRINGS, Colo., June 3, 2019 (Newswire.com) - LearningRx (www.LearningRx.com), the world's largest personal brain training company, is celebrating the success of Caleb, who saw significant changes in job performance, processing speed and confidence after completing a LearningRx program.
As a young boy, Caleb struggled socially and academically and said he didn't really have any friends as a child. On his way home from college in 2017, Caleb was in a car accident, something he says was due to his slow response time and reflexes. He says he had been in and out of jobs, couldn't hold down a job and had no confidence.
Although Caleb had never heard of LearningRx, he's thrilled he enrolled in a program and says it has changed his life!
"I made such awesome progress," he says. "I could do things better, remember better and perform better in the job field. Since brain training, I definitely think the results and everything I know now and know about myself is going to allow me to go so much further in life. It works! It's one of those things where I kind of just blew myself away. It's made a huge difference in my life so I don't see why it wouldn't in anyone else's."
Watch his video: http://studentshoutouts.com/2019/01/04/car-wreck-student-reviews-brain-training-experience-learningrx-colorado-springs-co
About LearningRx
LearningRx, headquartered in Colorado Springs, Colorado, is the largest one-on-one brain training organization in the world. With 80 Centers in the U.S. and locations in 39 countries around the globe, LearningRx has helped more than 100,000 individuals and families sharpen their cognitive skills to help them think faster, learn easier, and perform better. Their on-site programs partner every client with a personal brain trainer to keep clients engaged, accountable, and on-task — a key advantage over online-only brain exercises. Their pioneering methods have been used in clinical settings for over 35 years and have been verified as beneficial in peer-reviewed research papers and journals. To learn more about LearningRx research results, programs, and their 9.6 out of 10 client satisfaction rating visit http://www.learningrx.com.
Source: LearningRx
Share: