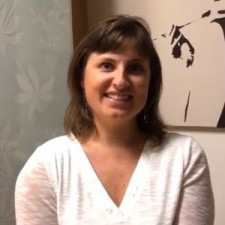 Mom talks about how daughter's full potential was unlocked
CHARLOTTESVILLE, Va., May 31, 2019 (Newswire.com) - LearningRx (www.LearningRx.com), the world's largest personal brain training company, is celebrating the success of Ayda, who saw significant changes in sustained, divided and selective attention after completing a LearningRx program.
Ayda came to LearningRx after her teacher was concerned that although she was smart, she was struggling to pay attention in class.
"I just knew that if she could focus, she could have real power," says her mom. "I've known since she was little that she had attention issues. It's cute when you're 4, but it's not cute when you're 10. I had talked to my pediatrician and I was on the verge of putting her on some ADHD medication when the pediatrician suggested LearningRx."
Ayda's mom says that a cognitive skills assessment showed how smart Ayda was, but that she had some brain skills that were weaker, including attention, working memory and processing speed.
After completing her LearningRx personal brain training program, Ayda achieved drastic improvements­—and the changes have made her a successful student.
"It's been amazing," says her mom. "I just had parent-teacher conferences a few weeks ago and I had the best report on Ayda I've had in years. All of her teachers said it's amazing how much she's focusing. I can tell that she's practicing. She's doing her homework. She's being way less disruptive in class. She's getting so much more out of school. I can see that as she is starting to enter her pre-teen years, she is full of confidence about her abilities. Having LearningRx help her build on her skills that were weak has really allowed her to access her skills that are strong."
Watch Ayda's story: http://studentshoutouts.com/2019/01/02/mom-reviews-brain-training-daughter-attention-struggles-learningrx-charlottesville-va
About LearningRx
LearningRx, headquartered in Colorado Springs, Colorado, is the largest one-on-one brain training organization in the world. With 80 Centers in the U.S., and locations in 39 countries around the globe, LearningRx has helped more than 100,000 individuals and families sharpen their cognitive skills to help them think faster, learn easier, and perform better. Their on-site programs partner every client with a personal brain trainer to keep clients engaged, accountable, and on-task — a key advantage over online-only brain exercises. Their pioneering methods have been used in clinical settings for over 35 years and have been verified as beneficial in peer-reviewed research papers and journals. To learn more about LearningRx research results, programs, and their 9.6 out of 10 client satisfaction rating visit http://www.learningrx.com.
Source: LearningRx
Share: