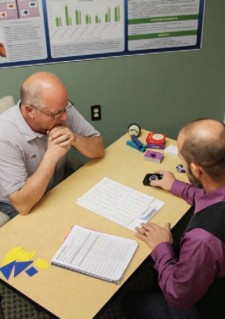 LearningRx Brain Training can Strengthen Cognitive Skills
COLORADO SPRINGS, Colo., June 10, 2019 (Newswire.com) - ​​​​​June 10-16 is National Men's Health Week and (www.LearningRx.com), the world's largest personal brain training company, is sharing the results of a new study linking tooth loss in older men to cognitive decline.
According to the new research, P. gingivalis, the bacteria commonly found in people with periodontitis, boosts the production of beta-amyloid in the brain. In particular, the study found that for older men, the risk of cognitive decline increases as more teeth are lost due to periodontal disease and caries (the decay and crumbling of teeth or bone). Although the study was only done on older male participants, the findings may apply to everyone. Read up on the research here: www.medicalnewstoday.com/articles/324485.php
Regardless of the cause, cognitive decline can be debilitating. Although many seniors are aware that exercise, socializing and good nutrition are important to keep their brain sharp, there's a lesser-known, science-backed way to fight back against declining cognitive skills: one-on-one brain training. Also known as "personal brain training," one-on-one brain training can provide a more direct and intense route to target weak brain skills.
"Cognitive skills, also known as 'brain skills,' are the fundamental tools we need to learn, read, remember and pay attention," explains LearningRx Chief Research & Development Officer Tanya Mitchell. "They include attention, auditory processing, memory, visual processing, logic & reasoning, and processing speed. Using a gold-standard of cognitive skills testing, it's possible to identify which brain skills are weak. Although all cognitive skills can be affected, for older people it's common to see memory, attention and processing speed affected."
Unlike digital brain games, one-on-one brain training uses customized exercises and incorporates immediate feedback, intensity, and loading, among other features, to target brain skills. To find out more about how LearningRx personal brain training has helped seniors struggling with cognitive decline, visit www.LearningRx.com.
About LearningRx
LearningRx, headquartered in Colorado Springs, Colorado, is the largest one-on-one brain training organization in the world. With 80 Centers in the U.S., and locations in 45 countries around the globe, LearningRx has helped more than 100,000 individuals and families sharpen their cognitive skills to help them think faster, learn easier, and perform better. Their on-site programs partner every client with a personal brain trainer to keep clients engaged, accountable, and on-task—a key advantage over online-only brain exercises. Their pioneering methods have been used in clinical settings for over 35 years and have been verified as beneficial in peer-reviewed research papers and journals. To learn more about LearningRx research results, programs, and their 9.6 out of 10 client referral rating visit
Source: LearningRx
Share: