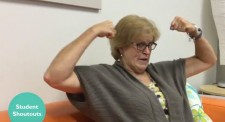 July 2 is I Forgot Day
COLORADO SPRINGS, Colo., July 2, 2019 (Newswire.com) - ​July 2 is I Forgot Day, and LearningRx (www.LearningRx.com), the world's largest personal brain training company, is sharing the results of its work on memory training for seniors.
"When seniors come to a LearningRx Brain Training Center, we start with a cognitive skills assessment to determine which skills are weak," explains LearningRx Chief Research and Development Officer Tanya Mitchell. "Cognitive skills are the foundational tools we use to think, learn and remember. They include logic and reasoning, auditory and visual processing, memory, attention and processing speed. For most seniors, we find that memory and processing speed are the weakest cognitive skills, although other cognitive skills are often affected."
According to Mitchell, once the weak brain skills are identified, they can be targeted with intensive one-on-one brain training. Unlike digital brain games, personalized brain training uses customized exercises and incorporates immediate feedback, intensity and loading, among other features, to work on brain skills.
So, what's the impact of LearningRx brain training on adults aged 50 and older?
Among 262 clients over the age of 50, the most dramatic improvements were seen in working memory (also known as short-term memory), long-term memory, processing speed and IQ.
Working memory improved an average of 25 percentile points following LearningRx brain training.
IQ scores improved by an average of 19 standard points after LearningRx brain training.
LearningRx posts video success stories on StudentShoutouts.com. A few seniors' videos include:
• Wayne —Who became a proficient reader at age 72 after completing LearningRx one-on-one brain training
• Mary—Who changed her mind about retiring after completing LearningRx one-on-one brain training
• Sally—Who improved her memory by 59 percentile points in 12 weeks
About LearningRx
LearningRx, headquartered in Colorado Springs, Colorado, is the largest one-on-one brain training organization in the world. With 80 Centers in the U.S., and locations in 45 countries around the globe, LearningRx has helped more than 100,000 individuals and families sharpen their cognitive skills to help them think faster, learn easier and perform better. Their on-site programs partner every client with a personal brain trainer to keep clients engaged, accountable and on-task—a key advantage over online-only brain exercises. Their pioneering methods have been used in clinical settings for over 35 years and have been verified as beneficial in peer-reviewed research papers and journals. To learn more about LearningRx's research results, programs and their 9.6 out of 10 client referral rating visit http://www.learningrx.com/.
Source: LearningRx
Share: