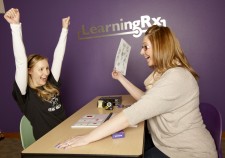 July is Make a Difference to a Child Month
COLORADO SPRINGS, Colo., July 9, 2019 (Newswire.com) - ​July is Make a Difference to a Child Month and LearningRx (www.LearningRx.com), the world's largest personal brain training company, is offering tips to help parents create ways for their children to shine with self-confidence. They include:
1. Remind them of past successes.
Highlighting past successes doesn't have to mean just verbally reminding a child that they did something well. It could include framing a photo of their best dance recital, placing awards or trophies in a place of prominence, placing an announcement in the newspaper or family newsletter, or asking them to mentor a younger child on the piano.
You can also "brag" to family members or friends within earshot of your child, ("I was so proud of Michelle. She scored two points in her basketball game!") or encourage a child just for attempting something new (even if they didn't excel at it). Some parents may disagree with the idea of giving out "participation awards," but in the case of a shy child or teen, just trying something new can be a very big deal.
2. Find opportunities for new successes.
Look for opportunities to help your child soar at whatever he/she does. Once your child hits a major milestone (such as completing an essay and entering it into a contest), be sure to praise his/her effort rather than the final result. In the case of the essay, for example, you could share the piece with friends and family and ask them to send complimentary responses or post the piece on an online community portal or personal blog.
3. Get to the root of the problem.
Some children have low self-esteem due to slower (not lower) performance. LearningRx sees all types of kids going through brain-training programs—from children with ADD and dyslexia to teens who want to increase their learning skills to perform better on college prep tests. One of the most reported changes from parents is their child's increased self-esteem.
About LearningRx
LearningRx, headquartered in Colorado Springs, Colorado, is the largest one-on-one brain training organization in the world. With more than 70 Centers in the U.S. and 48 international locations, LearningRx has helped more than 100,000 individuals and families sharpen their cognitive skills to help them think faster, learn easier, and perform better. Their on-site programs partner every client with a personal brain trainer to keep clients engaged, accountable, and on-task—a key advantage over online-only brain exercises. Their pioneering methods have been used in clinical settings for over 35 years and have been verified as beneficial in peer-reviewed research papers and journals. To learn more about LearningRx research results, programs, and their 9.6 out of 10 client referral rating visit http://www.learningrx.com/.
Source: LearningRx
Share: