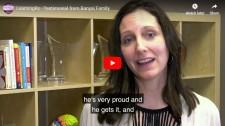 Boy with ADHD sees huge improvements in confidence, organization and comprehension
WOODBURY, Minn., May 20, 2019 (Newswire.com) - ​​LearningRx (www.LearningRx.com), the world's largest personal brain training company, is celebrating the success of Carson, who saw significant changes in confidence, organization and comprehension after enrolling in a LearningRx program.
Carson was diagnosed with ADHD and continued to struggle with his homework. He was having trouble getting organized and writing his thoughts down on paper. Rather than just relying on tutoring or pills to improve his attention, Carson's mom brought him to LearningRx for a cognitive skills assessment and then enrolled him in personal brain training.
"We've had nothing but a great experience," says Carson's mom. "He's very proud of everything he's doing here, and now he's trying to teach what he's learning to everybody at our house. Carson said he could tell that things were getting easier for him very soon after he started."
Carson is just over halfway through his personal brain training program, but his mom says LearningRx has shown her that there's a light at the end of the tunnel and that he can become focused and work really hard and feel proud.
"That's where it really differs. It's not just tutoring with an end goal and you're done. He's setting daily and weekly goals and he's doing it on his own without it really being judged. I think he feels the love from everybody here. Get the assessment, and sit down and find out what this training is really about. It's really going to change the way that your child is processing information and being able to communicate with you. It's something that they can own, and it's really important to him. He's owning it and he's loving it!"
Watch Carson's mom talking about his experience:
http://studentshoutouts.com/2019/04/04/son-adhd-different-anything-weve-tried-learningrx-eagan-savage-woodbury-mn-review/
About LearningRx
LearningRx, headquartered in Colorado Springs, Colorado, is the largest one-on-one brain training organization in the world. With 80 centers in the U.S. and locations in 45 countries around the globe, LearningRx has helped more than 100,000 individuals and families sharpen their cognitive skills to help them think faster, learn easier and perform better. Their on-site programs partner every client with a personal brain trainer to keep clients engaged, accountable, and on-task—a key advantage over online-only brain exercises. Their pioneering methods have been used in clinical settings for over 35 years and have been verified as beneficial in peer-reviewed research papers and journals. To learn more about LearningRx research results, programs, and their 9.6 out of 10 client referral rating visit http://www.learningrx.com/.
Source: LearningRx
Share: