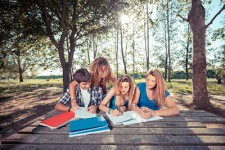 LearningRx Brain Training Reviews 5 Tips to Help Build Children's Reading Skills
COLORADO SPRINGS, Colo., June 10, 2019 (Newswire.com) - June 8 is National Children's Day and LearningRx (www.LearningRx.com), the world's largest personal brain training company, is sharing tips to help parents build their children's reading skills.
1. Choose books on topics they love. Does your child love trucks? Does your teen love owls? Ask the librarian to recommend books on those topics.
2. Strengthen their core cognitive skills. Research shows that most reading struggles are due to weak cognitive skills. In children and teens with dyslexia, those skills are often phonemic awareness and auditory processing. Consider having your child's cognitive skills assessed and then trained. Read more about how personal brain training can help: (www.LearningRx.com)
3. Reward them for milestones. When a child reads their first book on their own or finishes an entire series, celebrate in grand fashion.
4. Make sure they're reading at the right level. Librarians are trained to help you find books to match your child's reading skill level, so let them help. If you choose a book that's too easy, your child may get bored -- too hard and they may give up. Here's a piece on choosing age-appropriate books for your child: https://www.learningrx.com/blog/2016/october/choosing-age-appropriate-books-for-your-kids/
5. Take them to the library. In addition to offering a great selection of books, many libraries have story time, reading-related fund-raisers and "meet the author" events.
About LearningRx
LearningRx, headquartered in Colorado Springs, Colorado, is the largest one-on-one brain training organization in the world. With 80 Centers in the U.S. and locations in 45 countries around the globe, LearningRx has helped more than 100,000 individuals and families sharpen their cognitive skills to help them think faster, learn easier and perform better. Their on-site programs partner every client with a personal brain trainer to keep clients engaged, accountable, and on-task—a key advantage over online-only brain exercises. Their pioneering methods have been used in clinical settings for over 35 years and have been verified as beneficial in peer-reviewed research papers and journals. To learn more about LearningRx research results, programs, and their 9.6 out of 10 client referral rating visit http://www.learningrx.com/.
Source: LearningRx
Share: