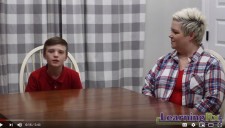 Parent Reviews Changes in Child with ADHD and Dyslexia after LearningRx Brain Training
SHREVEPORT, La., December 6, 2018 (Newswire.com) - LearningRx (www.LearningRx.com), the world's largest personal brain training company, is celebrating the success of Abram, who saw significant changes in grades, academic enjoyment and confidence after completing a LearningRx program.
Abram came to LearningRx because a difficult time staying focused and comprehending what he was reading. He was reading below grade level and noticed that many of his classmates were able to complete tasks that he struggled with. Homework was a struggle and caused fights with his parents and his confidence was low. And because Abram has ADHD and dyslexia, tutoring didn't seem to help much.
I just want to continue to see him thrive in school and to go on and achieve his dreams and his goals, whatever that might be.

Abram's mom
After completing his LearningRx personal brain training program, Abram achieved drastic improvements­—and the changes have made him a successful student. In fact, his mother says that now he's reading ABOVE grade level!
Abram says his attitude changed drastically after completing LearningRx, especially with homework and work at school.
Now Abram has goals for college. He wants to pursue physical therapy or sports medicine.
"We've watched him go from not being able to read to now he is an honor student," says Abram's mother. "I know that things don't always come easy for him. He has to work three times as hard as the kid sitting next to him. Now he works hard and he succeeds. I just want to continue to see him thrive in school and to go on and achieve his dreams and his goals, whatever that might be."
Watch his video: http://studentshoutouts.com/2018/10/31/learningrx-addresses-reading-comprehension-struggles-7th-grader-shreveport-la-review
About LearningRx
LearningRx, headquartered in Colorado Springs, Colorado, is the largest one-on-one brain training organization in the world. With 80 Centers in the U.S., and locations in 39 countries around the globe, LearningRx has helped more than 100,000 individuals and families sharpen their cognitive skills to help them think faster, learn easier, and perform better. Their on-site programs partner every client with a personal brain trainer to keep clients engaged, accountable, and on-task — a key advantage over online-only brain exercises. Their pioneering methods have been used in clinical settings for over 35 years and have been verified as beneficial in peer-reviewed research papers and journals. To learn more about LearningRx research results, programs, and their 9.6 out of 10 client satisfaction rating visit http://www.learningrx.com.
Source: LearningRx
Share: