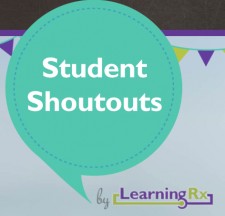 Who says you can't multi-task? Watch LearningRx students play the piano, do flips on the trampoline, and drum as they name all the presidents in under one minute
COLORADO SPRINGS, Colo., February 15, 2019 (Newswire.com) - Students across the country recently demonstrated impressive memory feats and focus for a national Presidents Day video contest sponsored by LearningRx (www.LearningRx.com), the world's largest personal brain training company. The three winners are Connor Dodson of Chattanooga (1st place), and siblings Christina and Jack Davoudpour of Atlanta (2nd and 3rd place, respectively).
The contest is designed to encourage kids across the country to create videos that demonstrate the memory and focus skills they improved with LearningRx Brain Training. Video entries include students reciting all 45 Presidents in order, while simultaneous showcasing another skill or ignoring major distractions.
"This is one of the first things we have students master in our brain training programs," says LearningRx Chief Research & Development Officer Tanya Mitchell. "It quickly strengthens long-term memory, attention and other cognitive skills, and it also gives a big boost of self-confidence. Many of these kids have struggled in school for years, so when they can quickly learn all the Presidents they feel smart and confident, often for the first time ever."
Although there were a variety of impressive submissions, the three winners stood out to the judges by reciting all 45 Presidents in order while performing other tasks. For 15-year old Christina, it was flips on a trampoline. For 13-year-old Jack it was playing Beethoven's "Für Elise" on the piano. But it was 10-year-old Connor who swept the contest by playing the drums while rapidly listing all 45 Presidents in order … in less than 25 seconds!
"Conner came to LearningRx when his parents noticed he was having difficulty maintaining attention and motivation during homeschooling," says Michelle Hecker Davis, owner of LearningRx Chattanooga, where Connor enrolled in personal brain training. "He was also struggling with reading comprehension, but after just two months of one-on-one brain training with LearningRx, his mom saw huge improvements in his motivation, focus and confidence. His dad even said he has become easier to coach in basketball. We can attest that Connor is a very hard worker at his personal brain training sessions and he is learning how much his cognitive skills can grow when he puts in the effort with his personal brain trainer."
You can watch the impressive video entries here: http://studentshoutouts.com/learningrx-presidents-day-contest-2019/. Please feel free to link to these videos or broadcast them for an inspirational story this Presidents Day, February 18.
To schedule an interview with someone from LearningRx or one of the winning contestants, please contact Tanya Mitchell at Tanya@LearningRx.com or (719)955-6703.
About LearningRx
LearningRx, headquartered in Colorado Springs, Colorado, is the largest one-on-one brain training organization in the world. With approximately 80 Centers in the U.S., and locations in 45 countries around the globe, LearningRx has helped more than 100,000 individuals and families sharpen their cognitive skills to help them think faster, learn easier, and perform better. Their on-site programs partner every client with a personal brain trainer to keep clients engaged, accountable, and on-task—a key advantage over online-only brain exercises. Their pioneering methods have been used in clinical settings for over 35 years and have been verified as beneficial in peer-reviewed research papers and journals. To learn more about LearningRx research results, programs, and their 9.6 out of 10 client referral rating visit http://www.learningrx.com.
Source: LearningRx
Share: