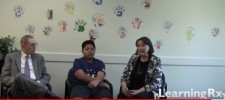 Homework struggles "vanish" after personal brain training program
TYSONS CORNER, Va., December 6, 2018 (Newswire.com) - LearningRx (www.LearningRx.com), the world's largest personal brain training company, is celebrating the success of Oliver, who saw significant changes in grades, academic enjoyment and confidence after completing a LearningRx program.
Oliver came to LearningRx after falling behind in reading, experiencing homework struggles and receiving reports of fidgeting in class. He had been diagnosed with four learning disabilities, and his parents worried he wouldn't be able to achieve his dream of pursuing engineering.
The necessity of sitting with him after school for two hours has vanished..... he does all of his homework alone!

Oliver's Mom
"We were just looking for some way to unlock the brain inside," says Oliver's mother. "There were some really unhappy parent-teacher conferences, very stressed home scenes after school and not very good grades for a lot of effort."
After completing his LearningRx personal brain training program, Oliver achieved drastic improvements­.
Oliver achieved a four-year jump in reading skills and just finished his first year of brain training with a 22-point increase in IQ.
"The necessity of sitting with him after school for two hours has vanished!" says his mom. "He does all of his homework alone. The subject of math is not something he struggles with now. He's pretty much self-regulating, and he does his own homework, and he's getting very fine grades."
"Now he can go into a field that uses his total brain power because he has a genius spark in him for problem-solving."
Watch his video: http://studentshoutouts.com/2018/07/16/learningrx-iq-increase-translate-real-life-tysons-va-student-reviews-experience
About LearningRx
LearningRx, headquartered in Colorado Springs, Colorado, is the largest one-on-one brain training organization in the world. With 80 Centers in the U.S. and locations in 39 countries around the globe, LearningRx has helped more than 100,000 individuals and families sharpen their cognitive skills to help them think faster, learn easier, and perform better. Their on-site programs partner every client with a personal brain trainer to keep clients engaged, accountable, and on-task — a key advantage over online-only brain exercises. Their pioneering methods have been used in clinical settings for over 35 years and have been verified as beneficial in peer-reviewed research papers and journals. To learn more about LearningRx research results, programs, and their 9.6 out of 10 client satisfaction rating visit http://www.learningrx.com.
Source: LearningRx
Share: