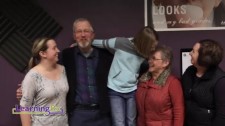 Girl goes from struggling with reading and academics to soaring confidence and reading fluently!
WOODBURY, Minn., May 28, 2019 (Newswire.com) - LearningRx (www.LearningRx.com), the world's largest personal brain training company, is celebrating the success of Melanie, who saw significant changes in reading, confidence, academics and participation after completing a LearningRx program in Wisconsin.
When Melanie's parents noticed she was struggling academically in first grade, the teachers told them that "everyone grows differently" and that Melanie would "grow out of it" and "catch up." But Melanie continued to struggle for a few years, spurring her parents to enroll her in LearningRx personal brain training.
Once they saw the results of Melanie's cognitive skills assessment, they decided to enroll her in the program, where she would do some brain training at the LearningRx. She also did some training with her grandmother at home.
Since completing LearningRx, Melanie is much more willing to participate in school and try new things. She has also started cooking more because she is able to read the recipes.
"I feel like I am out of the shadows," says Melanie. "I'm in the classroom like a regular person."
As for whether she'd recommend LearningRx to other kids who are struggling, Melanie says yes, "because it's such a great learning tool," especially kids whose parents are trying to "make them do something they don't know how to do—no offense to parents!"
Way to go Melanie. We're proud of you!
Watch Melanie, her grandmother and her mom talking about Melanie's experience: http://studentshoutouts.com/2019/05/22/learningrx-student-works-family-improve-reading-skills-brookfield-appleton-green-bay-wi-review
About LearningRx
LearningRx, headquartered in Colorado Springs, Colorado, is the largest one-on-one brain training organization in the world. With 80 Centers in the U.S., and locations in 45 countries around the globe, LearningRx has helped more than 100,000 individuals and families sharpen their cognitive skills to help them think faster, learn easier, and perform better. Their on-site programs partner every client with a personal brain trainer to keep clients engaged, accountable, and on-task—a key advantage over online-only brain exercises. Their pioneering methods have been used in clinical settings for over 35 years and have been verified as beneficial in peer-reviewed research papers and journals. To learn more about LearningRx research results, programs, and their 9.6 out of 10 client referral rating visit http://www.learningrx.com.
Source: LearningRx
Share: